Mobile Application Development
Nowadays, a new mobile devices with innovative options are incoming to the market. Having a running web application is no longer enough. Mobile phones & tablets devices have changed how we conceive software. There is a spectacular growth within the mobile business thanks to growing technology. Being obtainable on a handy internet enabled device is needed for every business.

Mobile devices software development poses new challenges due to the development environment nature and its associated unique features. The necessity to engage with multiple platforms, standards, protocols and network technologies complying the constrained mobile devices environment and marketing demands are creating software development considerably different from traditional development.

To maximize mobile application market presence, software products should be able to be run in as many devices within different platforms as possible. By means of the native development of the mobile application on each of the existing platforms using its integrated development environment (IDE), language, and tools is the traditional way of achieving such functionality. Native applications allow accessing all the features associated with the device, their performance is high. However, the price for native development is high as the source code cannot be re-used among different platforms, which means higher costs for the processes of development, updating, and distribution of the mobile application.

Using powerful application development kit like Flutter which helps in developing the native applications for different platforms by compiling the code on a native platform, you can create applications with a reusable codebase that utilize native UI and control elements.
Major Mobile Development Platforms
iOS
The platform that introduced current mobile development into the modern day, Developed by Apple Inc. & running exclusively on Apple products like iPhone and iPad.
Android
Although it has been introduced one year later than iOS, It is considered the mobile OS with the greatest dominant share of this market. Developed by Google Inc. based on Linux kernel.
Programming Environment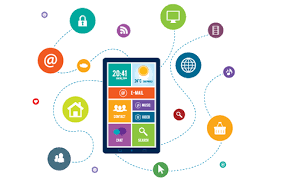 Need some help?
Our helpful customer service team is here for you. We provide onboarding assistance to get your domain name and email set up and running quickly. And our 24/7 technical support is always here if you need it.
Call US